Lawn Watering Guide and Questions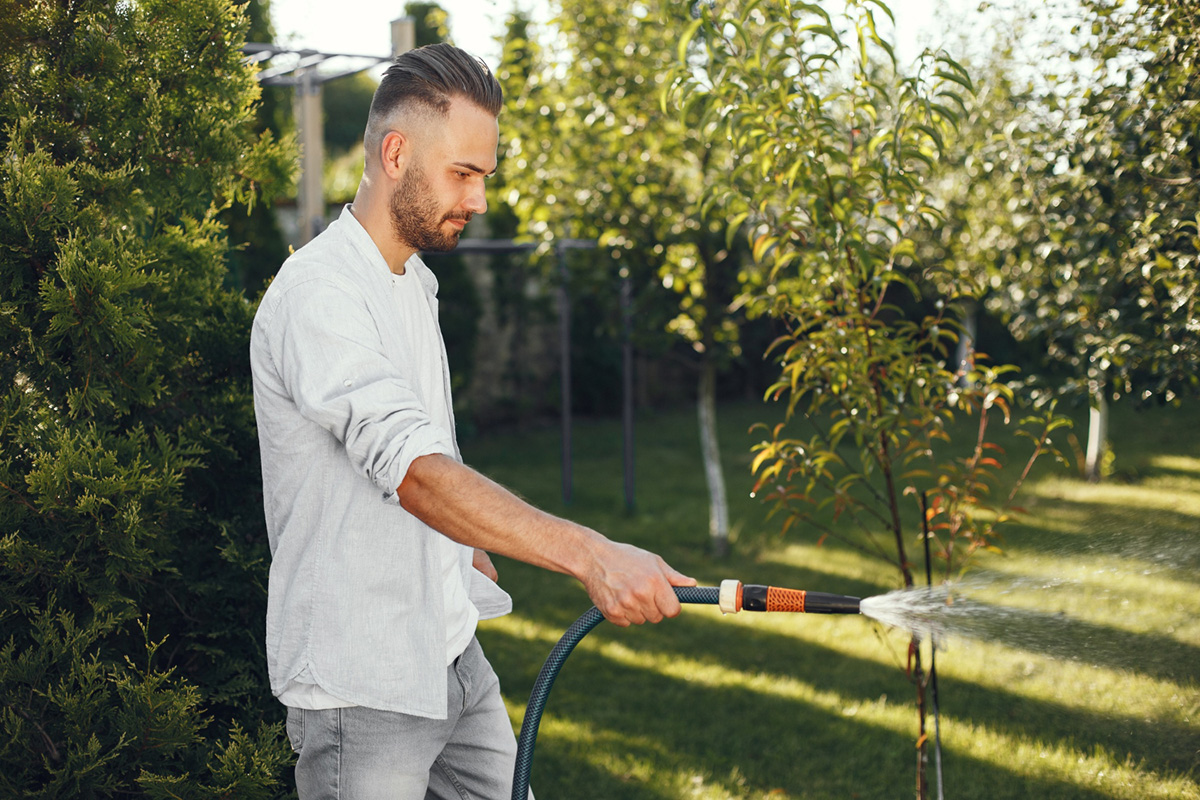 After mastering the art of proper lawn maintenance, the next crucial step to ensure a lush and healthy lawn is establishing a well-balanced watering routine. While fertilizing, sharpening blades, and following instructions to the letter are important, without proper irrigation, all those efforts would be in vain. Watering schedules may vary depending on your county, so it's essential to familiarize yourself with the local watering laws. The following Q&A section is based on a twice-a-week watering regimen and should be adjusted accordingly to comply with your county's regulations. Let's always be responsible and respectful by adhering to designated watering times and days, as we all play a part in preserving our natural water sources. If you've recently installed a new lawn, please refer to our new sod care instructions.
Lawn Watering Guide and Questions
Q: How frequently should I water my grass?
A: Conserving water is paramount for maintaining a healthy lawn. Keep in mind that local county laws may dictate different watering requirements, so make sure to check the allowed number of watering days per week. During the summer months, it's advisable to water twice a week, while in the winter months, once a week should suffice. Adjust the watering duration accordingly. You can set the timer for a Monday/Thursday, Tuesday/Friday, Wednesday/Saturday, or Thursday/Sunday schedule. In some weeks during the summer, you may even be able to turn off the irrigation system if the grass blades aren't wilting or bending inward, as these are signs of drought.
Q: What is the ideal time to start and end my watering?
A: The best time to water is in the early morning, concluding the cycle as the sun rises (between 7-7:30 am), or in the late evening when winds and evaporation rates are at their lowest (starting at 9 pm). Watering between 10 am and 7 pm is simply wasteful, as evaporation reaches its peak during these hours, preventing the water from penetrating the soil effectively. Keep in mind that irrigation systems can differ in the number of zones they have, ranging from 2 to 20+. Consequently, the start time may vary depending on the number of zones and the duration of each zone. The crucial point is to ensure that the last portion of water reaches the lawn no later than 7:30 am or as the sun rises.
Q: How long should I water each zone?
A: The first step is to determine the type of soil you have. If it has a mucky base that retains water for an extended period, you won't need to water as frequently. On the other hand, if it has a dry, sandy base, you may need to increase the watering duration. Another factor to consider is runoff. If there are sloping areas, water retention may be slower, necessitating an increase in watering time.
Irrigating My Lawn
Pay close attention to your grass. If the blades are folding inward, it's a sign of drought, and you may need to increase the watering duration. Keep in mind that lawns typically require only about 3/4" of water per watering cycle, equivalent to a small tuna fish can. Simply place cans or measuring cups throughout the lawn and run the system for twenty minutes. If the cans or cups are filled, twenty minutes should be sufficient. However, if they aren't quite full, you'll need to adjust the watering time for each zone accordingly.
If you need help in your lawn, whether that's Landscape design service or Artificial Grass Installation in Florida, contact From The Ground Up Landscaping today for a free estimate.